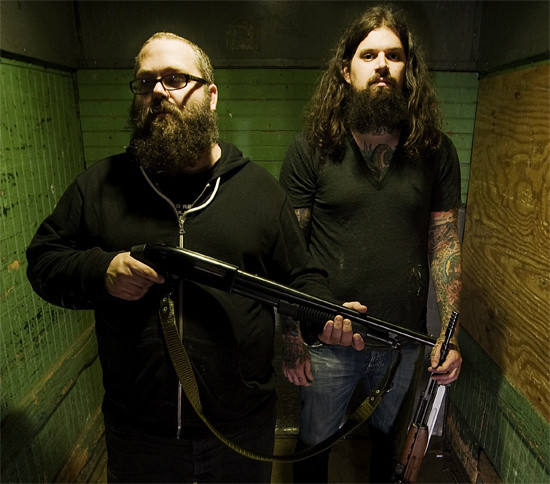 The Body
While often referred to as a doom/sludge metal act, the Body have progressed far beyond that scene, incorporating samples, electronic processing, acoustic instruments, and elements of dub, classical, blues, and numerous other genres into their relentlessly experimental music. On albums like 2013's Christs, Redeemers, they added strings and choral vocals, while 2016's No One Deserves Happiness featured beats influenced by contemporary pop and rap, and 2021's I've Seen All I Need to See was closer to power electronics and death industrial than metal. The Body have built up a dedicated following through endless touring as well as their prolific release schedule, including collaborations with groups such as Thou, Krieg, and Full of Hell.

All the Waters of the Earth Turn to Blood The Body formed in Providence, Rhode Island in 1999, tapping into the city's thriving noise and experimental scene when formulating their grating, punishing hybrid of brutal metal and difficult noise textures. Composed of Chip King on guitars and howling vocals and Lee Buford on drums and various other electronic sound-makers, the pair played locally and perfected their approach before releasing a self-titled album on Moganono Records in 2004. The Body frequently toured and released music in the form of smaller-scale EPs and split recordings with other bands. In 2010, the group released All the Waters of the Earth Turn to Blood on At a Loss Recordings, following the next year with both an anthology compilation on Corleone Records and Nothing Passes, a collaborative album with friends Braveyoung. Sometime amid their touring and constant evolution, the Body relocated to Portland, Oregon.

I Shall Die Here Their 2013 Thrill Jockey full-length, Christs, Redeemers, found the Body employing samples, stringed instruments, and folky guest vocals along with their regular brigade of noise, drum blasts, and gruesomely slow metal churning. For their next work, the pair teamed up with the Haxan Cloak, who further deconstructed the Body's terror-inducing sound on their 2014 album for Rvng Intl., I Shall Die Here. That same year the band released a split LP with fellow Providence metalheads Sandworm on Thrill Jockey shortly before the two groups embarked on a tour together. Enjoying collaboration more and more, the Body teamed up with like-minded Louisiana doom metal outfit Thou in 2014 to release an EP titled Released from Love, which arrived in a limited edition on the Vinyl Rites label. The collaborative effort was repackaged early the next year along with another batch of songs the bands developed together, released by Thrill Jockey as You, Whom I Have Always Hated/Released from Love. Two more collaborative albums appeared that year: xoroAHbin with Japanese group Vampillia and an album with American black metal band Krieg, released by At a Loss.

One Day You Will Ache Like I Ache In March 2016, Thrill Jockey issued No One Deserves Happiness, the Body's most sonically diverse album to date, utilizing beats from a Roland TR-808 drum machine as well as faster tempos influenced by hip-hop and dance music. That same month, Neurot Recordings released One Day You Will Ache Like I Ache, the Body's full-length collaboration with Maryland grindcore band Full of Hell. The two groups toured together in support of the release. Their second collaboration, Ascending a Mountain of Heavy Light, was issued by Thrill Jockey in 2017. The following year, the Body released I Have Fought Against It, But I Can't Any Longer. The album was created using self-recorded samples, as well as contributions from members of Uniform, Sandworm, and longtime collaborator Chrissy Wolpert. The Body also worked with Uniform on a full-length titled Mental Wounds Not Healing, which was issued by Sacred Bones in June 2018. A second collaboration between the two groups, Everything That Dies Someday Comes Back, appeared a year later. Also in 2019, the band released Remixed, including interpretations by Moor Mother, Container, Peter Rehberg, and others. In 2020, the duo released a split-single with Bummer and a collaboration with MSC titled I Dont Ever Want to Be Alone. I've Seen All I Need to See, one of the Body's noisiest, harshest records yet, appeared in early 2021. A further collaborative effort -- the folk-inspired Leaving None But Small Birds -- appeared that same year, in conjunction with Montreal's BIG|BRAVE.